Sonja is an acquaintance of Axl Johnson. She was at one time implied to be the Goddess Frigg[1], though this later turned out to be based on a misunderstanding.
Biography
Edit
She first met Axl when he was researching Norse Gods and Mythology in the library when he decided to get some books out. She wasn't happy to learn that someone had drawn "stuff" in one of the books and thanked Axl for the heads up. When he returned the books the next day she admitted she was also into Norse Gods,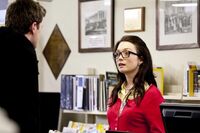 and during their conversation implied that she was the Goddess Frigg, and thought it was a coincidence as Axl was Odin, and their God selves were destined to be together. Axl later asked Sonja out for a coffee. She was bewildered by his seemingly mixed-up comments that his brothers and grandfather were also Gods, but set it aside as she complained that other Gods called her a slut when she was only spreading love as Frigg does. The next day, Sonja was asked out for a proper drink, but she was already going to a party, but invited Axl along as it was a God party. That night Axl learned she was not Frigg in real life, only in an online reality game based on North Mythology. Axl spotted Sonja as he was leaving, but she started yelling at him, fearing she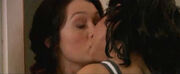 was his next victim because a real Goddess, Michele (who had also thought her to be Frigg) told her that he was a sexual predator. Sonja watched as Axl and Michele fought, but before the fight went outside, Michele kissed her, and implied that they had slept together. (
God's Gift To Zebras
)
References
Edit
Community content is available under
CC-BY-SA
unless otherwise noted.