Tags: apiedit Visual edit

 

Line 58:
Line 58:
 

[http://thealmightyjohnsons.co.nz/characters/the-johnsons/ Official Site]

 

[http://thealmightyjohnsons.co.nz/characters/the-johnsons/ Official Site]

 
 
 
+
−

[[Category:Actor images]]

 
 

[[Category:Actors]]

 

[[Category:Actors]]
---
Latest revision as of 00:34, 20 October 2016
Emmett Couling Skilton
Birth:
23rd September, 1987
Role:
Axl Johnson
Gender:
Male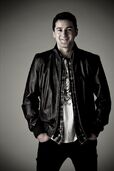 Born in Wellington, New Zealand Emmet Skilton has been performing since 2005.
Skilton attended Titahi Bay North School, Titahi Bay Intermediate and Mana College, all in his home town of Titahi Bay.
Having been passionate about the performing arts industry since an early age, he began performing in primary school plays and making small shows to entertain his family.
While at high school, Skilton was involved in a youth improvisation troupe called "Joe Imrpov" which performed four live shows a year at Wellingtons, Capital E. While performing a show, director Danny Mulheron saw his performance, and asked him to audition for a specific role in the TV series Seven Pounds with Mr Gormsby
He auditioned for The Almighty Johnsons after graduating Toi Whakaari, and ended up relocating to Auckland for the show. And this marks his first major television role.
Before filming Season 2, he appeared in the films Last Strike and Packed.
When he's not filming, he likes to keep himself busy in Auckland's Theatre Scene. He has performed in four successful, 1 month seasons, over the past two years. Including…
2010: Gagarin Way by Frisky Productions
2011: Paper Sky by Red Leap Theatre, co-starring with TAJ's Alison Bruce (Dawn)
2012: Tribes by Niina Raines
A Brief Overview[]
2005 - Complete High School
2005 - Skilton's career started in a small role in the comedy series Seven Periods with Mr Gormsby
2006 Toured New Zealand and Sydney, performing various re-written works of Shakespeare with 'The Ugly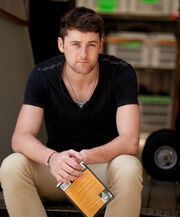 Shakespeare Company' including Richard III as Richard and The Tempest as Trinculo
2007 - Skilton was accepted into Wellington's Toi Whakaari: New Zealand Drama School
2007 & 2008 - Had guest roles in the television series The Hothouse and Time Trackers
2009 - Graduated Toi Whakaari with a bachelor of performing arts
2010 - Appeared in the feature film Home By Christmas
2011 - Skilton appeared in the short film, Shopping for One
First appeared as Axl 'Odin' Johnson in The Almighty Johnsons
2012 - Appeared in We Feel Fine
Nominated for the TV Guide Best of the Box category 'Rising Star' 
References[]