We're Getting Mutants in the MCU - The Loop
Play Sound
Does This Look Like Asgard? is the thirteenth episode of the second season, and is the twenty-third episode of The Almighty Johnsons overall
Synopsis
[
]
On the day of Gaia's actual 21st it sucks to be mortal, and being a God isn't exactly plain-sailing either.
Plot
[
]
It is the day of Gaia's actual 21st and, therefore, the day of her attainment. Will she become Frigg? Or is Papatuanuku her destiny? Axl and Gaia wake up together, in Axl's bed, to face whatever the day brings – though the first thing it brings is Zeb, who is one step ahead of Axl in that he has actually bought Gaia a birthday present.
And so we begin tracking the members of the Johnson family through this day, towards the ceremony where Gaia's fate will be determined. If Axl thought he was going to spend a pleasant day with his girl that thought is dashed as a gaggle of Goddesses, led by Ingrid, who has very much taken charge of proceedings, descends on the flat and removes Gaia to a secret location to prepare her for the ceremony. And as soon as Gaia is out the door, a phalanx of Maori Gods arrive, looking for their future Goddess. When they're told she has gone they are not pleased, and resolve to stay until she is returned to them. The common denominator in all this is that this is a day for the Godly, so Zeb ends up getting kicked out of his own home.
Mike, meanwhile, has greeted the day in a foul mood – still ingesting over Loki's audio and video intrusion into his life. He turns to Kvasir for advice on how to kill Loki, and is told that the best weapon he has in this quest is the antithesis to fire: ice. But when Mike goes to Ty for his help, he is shocked to find out that Ty is no longer a God. Mike does not take this news well. Ty, meanwhile, is happy in his mortality, setting about his plans to woo Dawn.
Anders, for his part in this tale, is encountering a problem he never thought he would ever confront: that of having too much sex in his life. Helen Larvig, it seems, is rather insatiable, but even worse she is starting to control Anders' life in ways that he is really not enjoying so much. After taking his concerns to Dawn, who takes great pleasure in kicking him out, it is a conversation with his mortal brother Ty that gives him the courage to try and cool things down with Helen. Somewhat surprisingly she seems to take this change in their relationship status in her stride. Anders is happy.
As Axl bonds with the Maori Gods over video games, Gaia is wooed by Goddesses at a beauty parlor. Olaf, meanwhile, is worried about Mike, who is getting more and more obsessed with killing Loki. And then Ty makes his big move on Dawn, turning up on her doorstep to profess his love. Except that he is stunned to find that she has no idea who he is, before shutting the door in his face.
And so, as everyone else is making their way to the ceremony, Ty is desperately trying to find out why Dawn (and Zeb too) has no idea who he is. Kvasir tells him this is a side-effect of becoming mortal – none of the mortals Ty knew as a God will remember him. Olaf has to stop Ty killing Kvasir.
Thus it is that Anders' is side-tracked from his path to the ceremony by a desperate Ty, asking him to use his powers over Dawn, so she will stay around long enough for him to start from scratch in winning her over. Luckily this suits Anders' need for Dawn to come back in his life, so he completes the task – giving Ty a shot at happiness.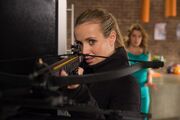 But when Anders gets to his apartment, to prepare for the ceremony, he finds that Helen is not happy at being dumped – and is refusing outright to accept it. Into this argument Natalie arrives, wielding a crossbow and spouting religious gobbledegook. It would seem that Natalie is a God-hunter, sent here to wipe the pagan abominations of the Johnson clan off the face of the Earth – starting with Anders. Except that when Helen announces that she too is an abomination Natalie kills her first. As Helen's Goddess spirit vacates her body Anders takes the chance to flee.
By a river, Gaia's Goddess ceremony begins. Two sides – Norse and Maori – wait for the outcome. A surprise attendee is Loki – with Mike having to be restrained from having a go at him. As Ingrid presides, Anders finally arrives, in a panic, telling stories of mad women with crossbows – and of the death of Helen. Ingrid is not pleased to hear of Helen's demise, as Mike runs off to intercept Natalie, whom he deduces will have followed Anders to the motherlode of Gods. But Mike hunting Natalie is turned on its head, when it is she who corners him. As she is about to pull the trigger, she abruptly explodes into flame. And Loki / Colin appears, having saved Mike's life.
Meanwhile the heavenly light settles on Gaia, announcing her attainment. But when she emerges from the waters she walks straight past Axl and the Maori Gods, and up to Anders. There she falls to her knees and announces that it is Iðunn, returned. It is Ingrid who sorts out the confusion by explaining that because of Helen / Iðunn's death, there was a need to bring a new Iðunn (the 'constant Goddess' the giver of life to the Gods) into the world so, in effect, both Frigg and Papatuanuku were shoved aside so Iðunn's spirit could return.
And so, in this way, Axl not only fails to find his Frigg, but also loses the girl he loves to his brother. No wonder Loki thinks this is the funniest thing he's seen in a long time.
Cast
[
]
Crew
[
]
Writer - James Griffin
Director - Murray Keane
Script Editor - James Griffin
Storyliners - Tim Balme, Ross Hastings & Tiffany Zenhal
Producer - Simon Bennett
Executive Producers - James Griffin, Rachel Lang, Chris Bailey & John Barnett
Music
[
]
Oh My - Performed by Gin Wigmore (Theme Music)
Little Heart - Performed by Jess Chambers
Reception
[
]
Trivia
[
]