Jurassic World: Dominion Dominates Fandom Wikis - The Loop
Play Sound
An Orchard of Trees is the first episode of the third season, and is the twenty-fourth episode of The Almighty Johnsons.
Synopsis
[
]
Entering its third season, we pick up the action mere hours after the ceremony at the lake, wherein Gaia became neither Frigg nor Papatuanuku, but the Goddess Iðunn.
Ominous cup-cakes, forbidden fruit and screws in a jar as the Johnson boys are having a hell of a hard time with the women in their lives.
Plot
[
]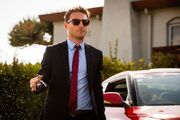 As he is driving her back home from the lake where Gaia's Goddess ceremony took place, Axl envisions Gaia and Anders living happily and expecting a child together, since their destinies are now intertwined as Bragi and Iðunn, and that he is being forced to watch as a tree. Stopping the car after almost getting in a collision, he explains his worry to Gaia, who assures him that she has no desire to be with Anders, even if they are now meant for each other. Axl is reassured, and the two get passionate, which they take back to Axl's room, ignoring Zeb, who asks how it went.
Mike and Olaf are burying Helen's body in the forest (to Mike's annoyance) so that no investigation will start, Michele and Stacey investigate Natalie's hotel room for answers as to whether anyone else from her organization will show up. Ingrid returns to Ty's place, and explains the day's events to him. Mike is furious to find that Anders, who had been left with the job of cleaning up the blood in his flat, has not even made a start, and orders him to get a move on, pointing out that his job of digging the grave had been more difficult. Anders reluctantly sets to work, but experiences a vision of Gaia in front of him. Mike returns home to find Michele has completed her job as well, and asks the meaning of Colin's cryptic comment of her being the most powerful Goddess, but she plays it off as jealousy, and in turn asks if Mike still wants to kill him. Mike admits that he is very wary after seeing what Colin did to Natalie.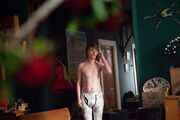 The next morning, Zeb wakes up to their landlord's call to notify them of an inspection the next day, and he finds that a tree of red apples has suddenly grown out of their couch in the living room. Waking his flatmates to ask them what has happened, Axl informs him that Gaia is now Iðunn, and not Frigg or Papatunuku, and probably did it unintentionally while they were being passionate. When Olaf and Ingrid comes to inspect, they pick some of the apples to eat, despite warriness of what the consequences might be. Axl and Zeb also decide to partake, while Gaia decides against it, and all find the apples delicious, but something about the apples nags at Olaf and Ingrid.
Anders heads to his office, where Dawn asks about Helen and Natalie, and in order to keep her from asking too many questions, Anders uses his powers to convince her that they ran away together and not to mention them again. As he experiences another vision of Gaia, Ty arrives, casually asking Dawn for a drink, but she is still wary of him and Anders sends her out. Ty is sorry to hear about Helen's death and asks how Anders is holding up. Anders does his best to avoid sharing his feelings by pointing out that Ty is making Dawn nervous.
As Axl and Zeb are cleaning up the flat for the inspection, Gaia suddenly envisions Anders in front of her. Shaking it off, Gaia drags Axl to her bedroom to try and force herself to ignore Iðunn and Bragi's callings to one another by sleeping with Axl, however she cannot help but feel like it is all wrong. Ty returns to JPR to try and woo Dawn again, this time by offering some cupcakes he made. Dawn appears even more disturbed than before, and Anders urges Ty to not force himself into Dawn's life and just make casual appearances until she is more comfortable around him. However some of Anders' words makes Ty suspect that he had convinced Dawn that he is gay like before, but Anders plays it off by claiming he told Dawn that Ty has a large penis, which infuriates Ty. Anders suddenly sees Gaia in front of him and decides that he needs to talk to Olaf about his visions.
Axl, Gaia and Zeb head to Mike's bar, where Anders is talking with Olaf about Gaia. The tension between Axl, Anders and Gaia is tense, and despite Anders' assurances that he doesn't want anything to do with Gaia, Mike orders him to leave. Mike pulls Axl aside to try and get him to open up about his feelings about the situation, but Axl insists that he and Gaia are going to stick to the ways things were. Later in bed that night, Axl states that despite the fact that she didn't become Frigg, he knows now that he loves Gaia, and proposes to her with an engagement ring, to which she accepts.
Ty follows Anders advice about insert himself causally into Dawn's life by jogging past her place as she is leaving for work. Mike and Michele are in bed, but Michele expresses annoyance at the conditions they are staying in, despite them not being so bad, and convinces Mike that they should remodel his living space. Zeb is finishing tidying up when Axl and Gaia announce their engagement, and though he claims he is happy for them, is worried what Odin and Iðunn being together means. At that moment, the landlord's daughter arrives for the inspection, and asks why there is an tree growing out of the couch. Axl claims that it is an art installation Gaia made. The landlord's daughter announces their rent is going up, but Axl and Gaia are still buzzed about their engagement and set about telling people.
When Anders arrives at work, Dawn questions why Ty was jogging past her place, which Anders passes off as it just being Ty the running enthusiast, then Axl calls to brag about the engagement. Anders feigns happiness and accepts Axl's invitation to celebration drinks at Mike's bar. As Mike and Michele head to Mitre 10 for building supplies, Axl calls with the news, while Gaia calls Stacey to inform her of the news. Ingrid and Olaf overhear Gaia and Stacey's conversation before Axl calls Olaf as well. Mike, Olaf, Michele, Ingrid and Stacey are as weary of this development as Zeb was, but like him, all claim to be happy for Axl and Gaia.
Ty receives the news from Axl as well, and is truly happy for them, just as Anders arrives to berate Ty on his jog-by on Dawn's place. Ty claims that he is following his advice to take things slowly and hopes that Dawn will see it as destiny driving them together, but Anders points out that he is acting like a stalker. Ty tells him that he just wants things with Dawn back as they were when they loved each other, and Anders leaves, intending to deal with the situation himself. Mike and Michele argue over the things they want for the remodeling, due to Mike wanting to keep things simple by using what money he has. Michele encourages him to enter a contest to do a 10 minute free-shopping spree, knowing that he will win because of his powers, and he reluctantly agrees. Nagged by her comments that he should use his powers more often to win money, he asks if she truly loves him and not what he is capable of, to which Michele claims that she does and that her dark-side ambitions are a package deal. Mike enters and wins the shopping spree.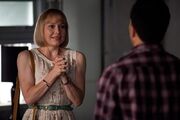 Anders goes to see Dawn and uses his powers to make Dawn want to feel closer to Ty in the hopes that it will satisfy him. Dawn then shows up at Ty's place, claiming to love his cupcakes and asking him to show her how to make them. Mike begins the shopping spree, however he finds himself at war with Michele, who constantly (and aggressively) tries to get things she wants into his trolley as well, and she asks if he was avoiding saying whether or not he loves her back. Eventually their fight grows until she storms off, but then Mike removes everything from the trolley and replaces it with flowers, and when Michele catches up to him and asks if it is proof that he loves her back. She accepts everything but the roses, and they kiss passionately as the ten-minute spree runs out.
Ty and Dawn happily bake cupcakes together, and Ty is somewhat suspicious, and so calls Anders, who confesses to manipulating Dawn so that Ty will stop making things worse for all of them. Dawn investigates Ty's freezer, and suddenly experiences flashes of when she was locked inside (by Eva) and freaks out, leaving behind a confused Ty. Axl and Gaia arrive at Mike's bar for their engagement celebration, but Olaf takes Axl aside, as Ingrid does with Gaia.
Both explain that it will be pointless for them to ignore the complications arising for them, and that Gaia now craves to be with Bragi despite not liking him, and that things will never be the same between them. Gaia reluctantly accepts this, but Axl is more resistant, until Olaf points out that Gaia did not grow the apple tree, for if it had been her, the apples would have turned out green (and not red). Axl was the one to grow it, a subconscious and childish act in which he wanted to hold on to Gaia. Axl, still unwilling to accept this, claims that he is going to fight this and leaves.
Gaia goes to Anders' apartment, and ends up sleeping with him as they accept their destinies because of their being Bragi and Iðunn. Axl, meanwhile, returns to the flat, and angrily begins cutting up the apple tree.
Cast
[
]
Crew
[
]
Writer - James Griffin
Director - Murray Keane
Script Editor - James Griffin
Storyliners - James Griffin, Tim Balme, Ross Hastings, Natalie Medlock & Helen Searancke
Producer - Mark Beasley
Executive Producers - James Griffin, Chris Bailey, John Barnett & Kelly Martin
Quotes
[
]
Olaf - "The powers of Iðunn are subtle and sophisticated. Growing an actual tree, out of an actual couch, is the subconscious act of a child trying desperately to hold on to something it knows it can't have."
Deleted Scenes
[
]
Ty is baking cupcakes for Dawn, telling Ingrid that he used to do it a lot as a boy before he became Höðr and essentially lost his sense of taste.
Axl and Gaia emerge from the bedroom after sleeping together to find that Zeb has finished cleaning the flat. Zeb complains about the elephant in the room, causing Axl and Gaia to look around confusedly, leading Zeb to clarify he means the apple tree. Axl suggests shifting the couch outside, however it seems the tree has also grown through the ground beneath the couch. Zeb asks the new Iðunn for advice, and Gaia suggests that they just go to Mike's bar.
(Extended Scene) Michele is complaining about the living conditions of Mike's living space, particularly the plumbing, and suggests that he play someone to fix it up.
As Mike and Michele head to Mitre 10 for tools, Michele questions why Mike doesn't have any. Mike explains that after his divorce and giving up on his business, he threw he tools off of a cliff, as a part of alcohol-fueled self-pity.
As Mike and Michele are kissing, Mike suggests that they go back to his place to plan his renovations, and Michele in turn suggests that they include sex in those plans. As they start leaving, the contest judge tells Mike he still has three minutes left, but Mike ignores him, as the crowd continues applauding the couple.
Zeb is left in the bar alone, and tries to come on to Stacey again. Stacey notes that Olaf has years of experience pleasing women and asks what Zeb could offer. Zeb simply states he's bringing sexy back.
Music
[
]
Oh My - Performed by Gin Wigmore (Theme Music)
Buffalo - Performed by The Phoenix Foundation
Gold Halo - Performed by The Datsuns
To The Floor - Performed by Bang Bang Eche
Short Change - Performed by The Adults
Her Rotating Head - Performed by Bachelorette
Us In Leaves - Performed by The Veils
Reception
[
]
Trivia
[
]
Anders shaves his beard in this episode, which he had during series two (due to his filming of The Hobbit at about the same time)